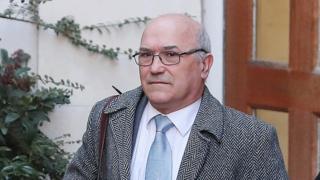 Oxfam chief executive Mark Goldring is to stand down following the scandal involving claims of sexual misconduct by staff in Haiti, the charity says.
Mr Goldring, who was criticised for his handling of the claims that aid workers used prostitutes in 2011, said someone else should "rebuild" the charity.
He has held the position since 2013 and will leave at the end of the year.
In a statement Mr Goldring said: "This journey will best be led by someone bringing fresh vision and energy."
Oxfam's deputy chief executive, Penny Lawrence, resigned in February over the handling of the claims.
Mr Goldring had denied there had been a cover-up, saying the UK-based charity was ashamed of what it had got wrong but had taken action and been proactive about going public on the matter.